Learn how to pitch your product with passion and persuasion. This is how we create awesome product presentations and how you can too.
As a Product Manager, you've been deeply involved in the development of your product since it was just a twinkle in your eye. You've seen its initial prototypes, watched it stumble to take those first steps into early user testing, experienced the heartbreak of failures and the exhilaration of positive customer feedback. Surely, once the product is ready to fly the nest and get out into the market, all the hard work is done and you should be able to just watch it leave, like a proud parent?
Unfortunately, you can't rest just yet, you'd be missing one of the most important parts of your journey. It's time to present your baby to the world, like Rafiki proudly thrusting Simba over the edge of Pride Rock. Don't let all your weeks, months and years of hard work crumble to nothing out in the big, bad world due to a poorly-communicated product presentation.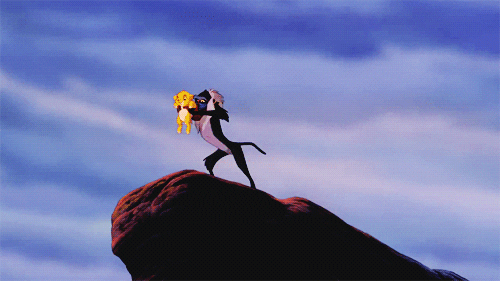 By making sure your product presentation hits three key pillars of persuasion, you're guaranteed to give your product the best start in life, setting it up for a successful future.
1. Lead with emotion in your product presentation
Tell a story
Stories are the most powerful way of communicating information in your product presentation. They help to engage your audience on an emotional and intellectual level, which is far more powerful than just info-dumping lists of facts and figures. Even the most hard-nosed, data-driven audiences can't resist a good story.
The very nature of the product presentation is a prime storytelling opportunity. You're introducing something new, so you can craft a narrative of change. And there's bound to be a compelling story or two in the development of your product. Get your audience involved with your product emotionally by transferring the very purpose of its conception through story.
Implement a narrative structure with a clear beginning, middle and end. This way you can clearly demonstrate the difference your product will make. Begin by talking about the current state of affairs, introduce conflict by talking about problems that your customers face, then end by introducing a brighter vision of the future with your product as the solution.
Can I help you?
Just like all proud parents, you want to position your product as the hero of this tale. But your audience wants to know how this change is going to help the end-user and, in turn, improve their own lives. A great product is built to solve the problems of its customers, and developed to perfection because you know them intimately. You've talked to your customers, you've listened to their feedback and their struggles. You've already done the hard work.
Don't forget about the real people who drove you to develop your product, when it comes to presenting it. If you know them so well, you should be able to craft a product presentation that tells the story from their point of view. Paint a picture of who they are to create an emotional connection with your audience. What are their goals, dreams, aspirations? Take your audience on a journey through the eyes of the customer and invoke the same emotions in your audience as your product does in them.
Find your why
Businesses don't generate loyalty based on what they do or how they do it. Selling through features just isn't enough, consumers want to buy from businesses that believe what they believe.
By moving the focus away from the features, benefits, facts and figures, and leading with customer-centric storytelling, you can connect with beliefs and emotions and change the buying behaviours of your audience. Instead of approaching your audience with the facts, try thinking about what they believe and what they really want, and show them how this aligns with your own beliefs and how you can get them to where they want to be.
"If two products have the same features, the one that appeals to an emotional need will be chosen."

Nancy Duarte, Resonate
2. Support your product presentation with fact
Now that emotional storytelling has got them hooked, prove to your audience that this isn't fiction.
Real customer results
As a successful Product Manager, you know the importance of sourcing quality feedback when it comes to developing your product, ready for market. The ability to capture market feedback and translate it into a coherent vision is why you're so good at what you do. Don't underestimate the impact of using this feedback early in your product presentation as well.
To paraphrase Jeff Bezos, nothing flattens a hierarchy like customer feedback. The audience may be willing to overlook your opinion, but they can't ignore the opinions of the people using the product.
Real-world examples of how your product is being used provide powerful storytelling opportunities. You can take advantage of them to demonstrate how it's a better alternative to the competition and prove that it works.
Paint by numbers
We know you haven't got your product to market without accumulating reams and reams of data, relating to every feature, every prototype, every spin around the block. This quantitative information is an important part of any communication collateral that aims to persuade, presentations included. But how you choose to visualise your data is the difference between high-impact factual messaging, and lulling your audience into a deep slumber.
Numbers on their own are abstract and difficult to understand. They have little semantic meaning, so you can forget about pasting Excel sheets onto your slides. However, our brains can process and extract visual meaning at an astounding rate, so using graphics to represent data just makes sense. Bring your data to life with out-of-the-box visualisation, key stats, infographics and icons. Retention of data increases dramatically when people can 'see the numbers'.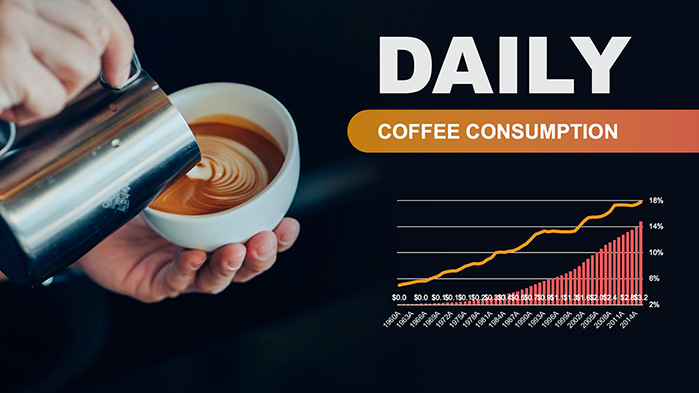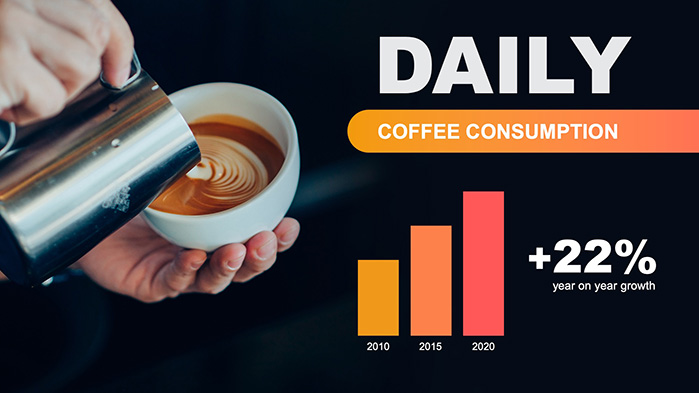 Keep it clear
You know this product inside out, and you're proud to be representing your team's hard work in front of potential retailers. There are so many incredible features that you want to shout about, but don't let yourself get carried away. Just because you're excited about each and every success, doesn't mean they will be. Instead, ask yourself "why should the audience care?" and strip away any messaging that doesn't pass the test.
In order to be persuaded, they first need to understand what you're saying, and then they need to remember it. Firing out a hundred pieces of information a minute is not going to achieve either of these objectives. Keep your product presentation to one idea per slide, and allow time for each message to sink in before you move on.
Try to deliver each unit of information in the clearest and simplest way possible, even if you're talking to experts. The less cognitive energy your audience needs to expel in order to understand, the better they'll feel about your presentation. Don't make them work hard for it, because they won't.
Your slide design can help here as well. Use minimal text set against powerful, relevant images that match the quality of your product. Maintain consistent use of colour throughout to reduce distractions and keep things uniform. Also, employ subtle animations and transitions to explain processes and help your information flow along naturally.
3. Build trust
Getting ahead of the game
Persuasion starts before you even open your mouth. Credibility comes down to trust; both in the speaker and in the organisation. If you haven't established yourself as an authority, you've lost before you've even begun.
Modern-day influencers like Seth Godin and Neil Patel have spent years regularly putting out valuable content to establish this authority. Make sure you're communicating your expertise to the world, outside of your presentations. Write articles, contribute to industry discussions, get your voice heard and show you know what you're talking about.
Delivering credible product presentations is more than showing up on the day with a great set of slides.
Game day
But, of course, there is a lot you can do to establish credibility and trust when you're stood in front of your audience.
Personal trust can be established in multiple ways, but it can also be hindered in multiple ways. So, how can you make your audience trust you? It's not just a case of telling an audience that you know what you're talking about, and they should trust what you say. It's how well you convince them that you're qualified to speak on the subject.
First, forget about selling. Think back to the last time you were buying a car or trialling a gym membership. Did you feel as though the sales representative really had your best interests at heart? Or were you just a means to hitting a sales target? If your audience smells desperation or selfish motivation in your pitch, they won't believe that your product really is the answers to all their prayers, and all your credibility will disappear. Instead, remember your purpose and remember why you're really there.
Present your credentials. This doesn't mean running through your entire CV or LinkedIn profile. Show that you are qualified, but don't brag. Expertise is more than just a list of achievements, you can communicate your confidence and authority through your actions. Your voice, gestures, expressions and movement all add to a complete communication of credibility.
Show your connection with others. Having the endorsement of other people or organisations that are established as trustworthy, will enhance your credibility in return. You can do this through awards and accreditations, as well as testimonials and case studies. Reinforce competence by letting other companies, that your audience already trusts, shout about their experience with you.
Deliver your product presentation with passion
You've developed your product with passion, so don't lose it when you stand in front of an audience. As the product's owner, you're closer to product than anyone else. Use the fact that you genuinely care about its success to your advantage and speak from the heart.
Audiences are extremely perceptive to authenticity. If they don't trust in your genuine belief in your product, they won't trust anything else you have to say.
At Hype Presentations, we don't hire people who love PowerPoint. In fact, most of our team won't have touched PowerPoint since school when they walk through the studio doors. We hire people who love a challenge and have the enthusiasm to find something they love about PowerPoint.
That's the secret. Authentic, undeniable passion is what makes us experts in our field.
Whatever your product, focus on finding your unique angle, the story you're passionate about, and speak to your audience, authentically, from this viewpoint.
Check you've ticked all three boxes
By leading with stories that trigger an emotional response, backed up with easy-to-absorb data and facts, and communicated with credibility, you're sure to paint your product in the best light and show your audience that their beliefs align with yours.
And if you only remember one thing from this article, let it be to find your passion within your presentation.
A product presentation example by
Hype Presentations