What's the price of professional presentation design?
We get it. You want an idea of what a presentation will cost before you get in touch with us.
We want to be completely transparent with our pricing up front.
Each project we complete is completely bespoke, but that doesn't mean we can't give you an estimate.
One size does not fit all. When it comes to presentation creation, we know that there are many ways to skin this particular cat, depending on what each client wants to achieve.
We have three pricing plans; choose the one that's right for your business, or create your perfect bundle with our add-on services.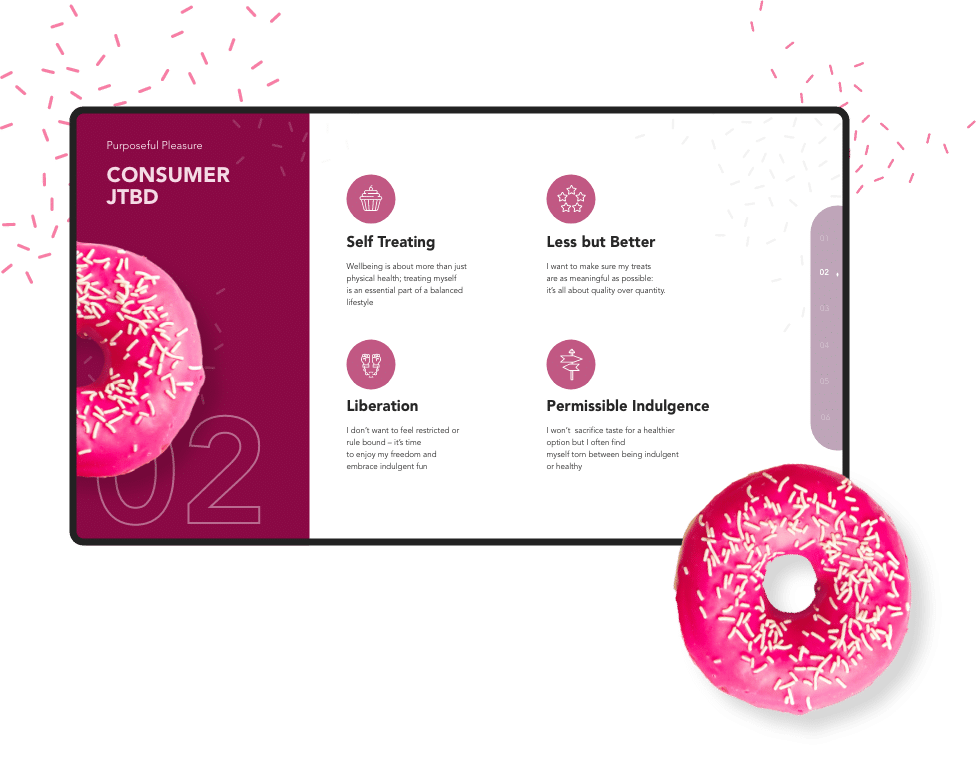 Most cost efficient.
Professional
Perfect for when you have a short deadline, a tight budget, or you just need your existing slides redesigned and updated to look more professional.
Up-to 20 slides
Design refresh of existing collateral
Simple animation
Get Started
Most popular.
Premium
Perfect for the majority of clients: slick design, dynamic animation, and dedicated project management to get amazing results.
Up-to 20 slides
Bespoke design + look and feel
Advanced animation, motion and video
Project management
1 round of revisions per discipline (storytelling/design/animation)
Regular progress meetings
Get Started
Most bang for your buck.
Ultimate
Perfect for the complete presentation experience: end-to-end support from the initial Discovery workshop, through design, animation, template development, and bespoke training.
Up-to 20 slides
Bespoke design + 3 look and feel design routes
Advanced animation, motion and video
Project management
3 rounds of revisions per discipline (storytelling/design/animation)
Regular progress meetings
Storytelling and content development
Discovery workshop
Tailored training
Custom charts and diagram creation
Aftercare
Get Started
If you need regular, ongoing presentation support, save money by taking advantage of our priority subscription service.
Add-on services.
Storytelling and content development.
From £770 per 20 slides.
Need help with your narrative as well as design? We develop compelling and persuasive content that effectively communicates your key messages and tells the story of your business.
Custom template.
POA.
You can add a template onto your presentation or you can get a stand-alone template without a presentation. Our templates usually contain between 15 and 25 layouts.
Brand creation / development.
POA.
While we're not a specialised branding agency, we can help smaller SMEs and start-ups to develop a brand to get them started with their presentation look and feel.
Discovery workshop.
From £770.
An in-depth session that will draw out the most important parts of your presentation to ensure that the messaging is targeted with pinpoint accuracy to get you maximum impact.
10 additional slides – full design and animation.
From £770.
The package prices above are based on approximately 20 slides. Not all presentations are 20 slides so when you need more slides, this is approximately what it'll cost.
Bespoke training.
POA.
Whether you need to brush up on your PowerPoint skills or learn how to craft a narrative, we will create the perfect bespoke training module(s) for you and your team.
Premium media pack
"I was really pleased with the work by Hype. Our business, Head for Points, has tricky branding and a lot of odd requirements, but Hype really got us straight away and the work they delivered was excellent. We are a picky client, so to exceed our expectations is rare, but Hype very much did exceed them. Account management was great and compared to the other agencies we contacted, they were very competitively priced. Highly recommend."
Professional presentation
"I had the pleasure of working with Hype Presentation recently, and I must say it was an outstanding experience from start to finish. Their level of professionalism and expertise exceeded my expectations, making the entire process smooth and enjoyable. Right from the initial consultation, Hype Presentation demonstrated a deep understanding of my requirements and objectives. They listened attentively, asked thoughtful questions, and truly grasped the essence of what I wanted to achieve with my presentation. This attention to detail gave me the confidence that they would deliver exceptional results. I wholeheartedly recommend Hype Presentation to anyone in need of professional presentation services. Five stars all the way!"
Premium presentation
"The team at Hype are a pleasure to deal with on every level. They interpret ideas to build visually compelling, animated slides with a design that underpins the message the presentation is conveying. They are efficient and communicative and, in our experience, have often delivered ahead of deadline. We have really appreciated the way they work in the spirit of true partnership. We would wholeheartedly recommend Hype Presentations."
Premium presentation
"We're not an easy business to understand, but the team at Hype have done a great job interpreting who we are into a format that is easy for our customers to understand in an engaging way. Account management is excellent and skill when it comes to creating a show that stands out is second to none - thanks all! Highly recommended."
Premium presentation
"Brilliant agency, delivering brilliantly creative presentations in incredibly tight timings. They bring content to life and are a pleasure to partner with."
Software presentation
"This might sound cheesy but do believe the Hype! We contacted them with a really urgent requirement and they delivered an amazing presentation and ultra fast. Knowing what we wanted and having the copy already drafted obviously helped but their team got our vision and brought it to life, and better than we expected. We will definitely work with them again and are already thinking about the next idea."
Conference presentation
"Our conference presentation stood out as the best part, and presentation, of the day! The Rockstar section was the talk of the conference, with everyone asking our contact where they'd gone to produce that. Making noise at these events is how the individual brands cut through to the group heads and get more support and confidence where they need it."
Sales presentation
"I highly recommend the team to anyone looking to elevate their communications and take their sales presentations to the next level."
CPD presentation
"The team guided us through the step-by-step process with ease, providing great insight and fresh new ideas, to create a more modern and engaging CPD for our audience."
Investor deck
"The team helped us to create a first-class investor deck, which was instrumental to the success of our investment round. We ended up securing £585,000, which exceeded our expectations by 30%."
We empower brands with fast, cost-effective, results-driven presentations.
Frequently asked questions.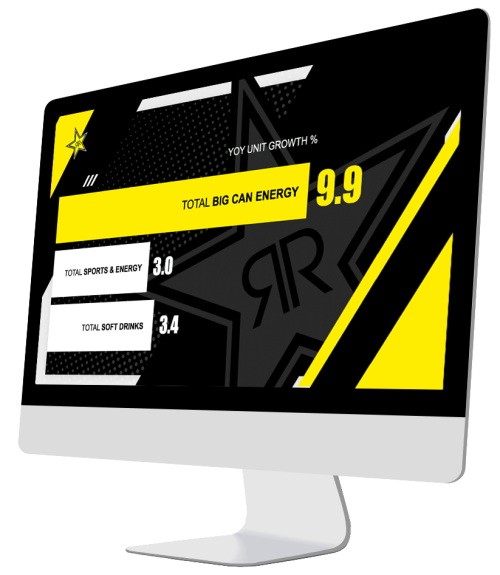 Does the price change depending on the software?
No, regardless of which software you prefer, we'll design your presentation in XD or Photoshop before building it in the platform of your choice.
The price will be the same, whatever you choose.
Can I just get a template without a presentation?
Yes, absolutely!
Some of our clients just need the tools to build their own on-brand, watertight and professional- standard presentations in-house, and that's where our Template design services come in.
Whether you'd rather work in PowerPoint or Google Slides, we set you up with everything you need, including all layouts, graphic assets, colours, and fonts, leaving you with the full toolkit to create your own – amazing – decks.
I don't know what I want yet, help! What do most people choose?
We can definitely help you to choose what's right for you, your goals, and your budget. We've guided hundreds of clients through the maze of presentation length, slide count, design routes, storytelling workshops and so on.
Most people tend to choose the Premium service, but each client has different requirements. It all starts with a chat to see what would be best for you.
I don't have anything, where should I start?
The great news is, you don't need anything!
We can create a brand, design a logo, define a palette, and anything else you might need to get started with your presentation visuals as part of our Brand Development service.
And if you need assistance with your content and story, we can help with your messaging too, as part of our Storytelling service.
I'm after a pitch deck, is the price the same?
Yes – it mostly doesn't matter what content is on the slides, so 20 slides cost the same whether it's a pitch deck, a creds deck, or anything else.
The exception to this is if your slides have very complex diagrams or animations, which may take longer in the studio, but we'll talk you through that in advance.
What is a Discovery Workshop?
A Discovery Workshop is an in-depth session that will draw out the most important parts of your presentation to ensure that the messaging is targeted with pinpoint accuracy to get you maximum impact and engagement.
These interactive workshops bring our experts and your major stakeholders together to discuss:
the aims and goals of your project;
your company, brand, market, and differentiators;
challenges with your current presentation;
your audiences' personas;
your audiences' challenges;
the solutions you can deliver to overcome these challenges;
the tone and pitch of your language;
story structure and narrative flow;
an audit of any existing content you have; and
your presenters, and their preferences.
What is Brand Development and Creation?
While we're not a specialised branding agency, we can help smaller SMEs and start-ups to develop a brand to get them started with their presentation look and feel. This includes:
an initial conversation around your brand and audience (who you are, what you do, how you want your audience/user to perceive you);
competitor research and inspiration (market and differentiators);
initial logo ideas;
initial concepts (we'll always provide options);
final logo/logo marks;
colour palette creation;
font and typography development;
image styling; and
initial icon styles.
I have more than 20 slides, what should I do?
We can create a deck with any amount of slides – we just found it easiest for our clients to understand our pricing structure when we list them in blocks of 20.
If you need more than 20 slides, simply add additional bundles of 10 slides to get an idea of the total cost.
We'll create a bespoke proposal for you, based on your exact needs – you're not limited to blocks of 10 or 20 in any way.
Do you charge per presentation or is it a subscription?
We're really flexible on how we charge for projects, and like everything else, it depends on what suits you best!
Some of our clients want one or two presentations, so it makes sense for them to pay per project.
And some of our clients have a need for regular, ongoing presentations. These clients prefer to pay a monthly subscription, enjoying reduced costs and priority access to the studio.
Just let us know what works best for you.