Industry: Software
Presentation type: PowerPoint template
Client: Totalmobile
The challenge.
Totalmobile is a market leader in field service and mobile workforce management technology. It empowers over 250,000 frontline workers to transform their service and deliver exceptional results. To transform its own service, Totalmobile was in need of a robust PowerPoint template example.
Presentations are an incredibly powerful tool for Totalmobile, and the company needs to know its slides can perform at critical moments. It needs slides to help win new clients and grow relationships with existing ones. However, the 250+ team members present frequently, and often with little time to prepare, so having every presentation pass through a specialist design studio isn't an option.
Instead, our client wanted to give each team member the power to create their own beautiful on-brand slides. And they wanted the tools to do this with minimal effort and consistent results.
Our process.
Step 1.
Multiple templates.
To us, the solution was obvious. Totalmobile needed a robust, beautiful, and easy-to-use PowerPoint template example. However, the client had a bad track record with presentation templates. Having worked with agencies who weren't specialist presentation designers, it had been left with templates that made the users' lives harder. As Totalmobile had tried to fix this problem on more than one occasion, multiple templates were circulating the business, and none of them were doing the job.
Step 2.
Improve communications.
We needed to show them that a well-constructed and well-designed template wouldn't increase the headache. In fact, it would improve Totalmobile's communications, unlock exponential value from the sales teams, and increase employee engagement.
Step 3.
Design inspiration.
With a rebrand this fresh, the client's website was our greatest source of design inspiration. The site builds subtle layers of delicate motion as you scroll. This is a tricky design element to replicate in a static template, but our designers love a challenge.
Step 4.
Consistent presentations.
A well-built PowerPoint template example can help anyone to easily create consistent presentations. What's more, they can do this quickly and without frustration. For Totalmobile, we were heavily inspired by the freshly-designed website. So, we pulled elements such as the curved edges, button style, icons and drop shadows across into the template designs.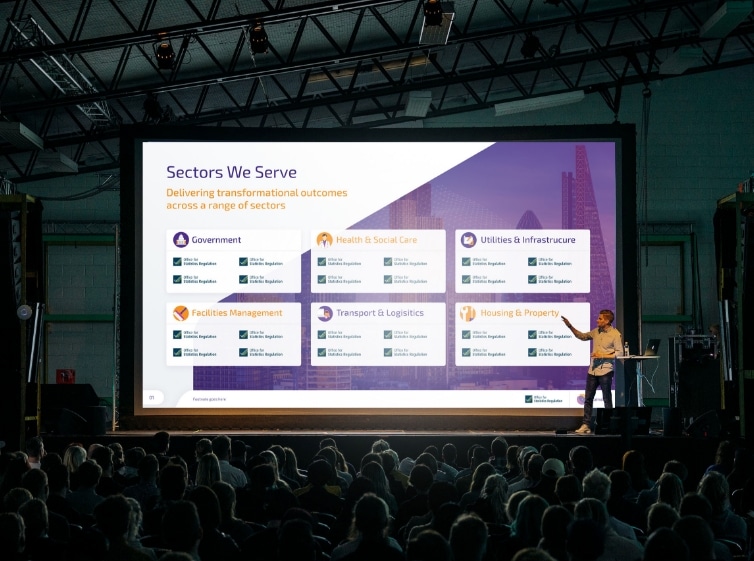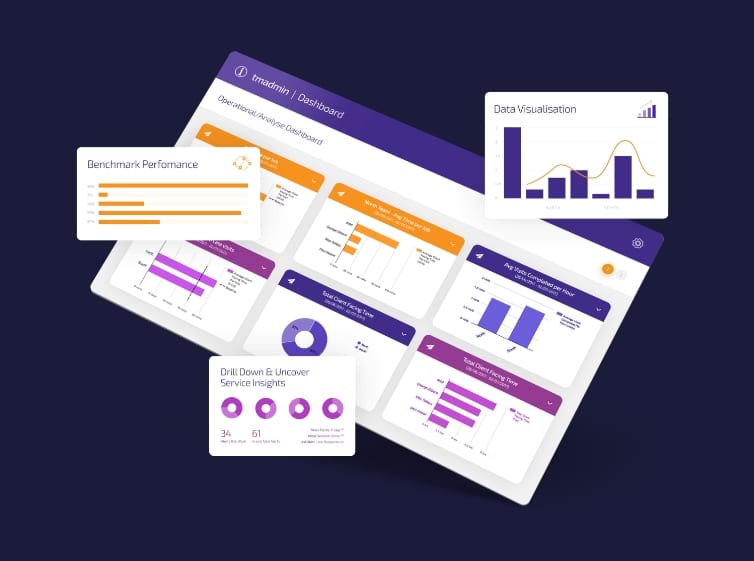 Step 5.
Bringing in movement.
Movement can be suggested in a number of ways, without even venturing near the animation pane. For Totalmobile, we created layers of content in stylised boxes that appear to float above the slide. However, adding these to the Slide Master would've restricted the flexibility of use. Instead, we designed a pre-loaded slide within the file that's ready and waiting when they click to open. This gives the user more control over how they present their information.
Step 6.
Data the driving force.
Data is the driving force behind everything Totalmobile does, which means the guys there often have to present data too. But this doesn't mean audiences should be subjected to slides and slides of ugly charts and meaningless tables. We encouraged the client to put its best foot forward by providing slide layouts that highlight the most important statistics.
Step 7.
Blueprint provided.
The PowerPoint template we created will serve as a blueprint for all future presentations at Totalmobile. As layouts, graphic assets, colours and fonts are all prescribed, building stunning slides couldn't be easier.
Step 8.
Easy-to-follow instructions.
We wanted to set everyone at Totalmobile up for future presentation success. Instead of focusing on creating a basic template, we worked with the teams to increase their PowerPoint knowledge. To do this, we added easy-to-follow instructions to the side of each template slide. We also supplied an in-depth User Guide to accompany this PowerPoint template best-practice example.
"An absolute pleasure working with you guys on this project. Well managed, great communication, great design and build. Fantastic result. The final result fixed an issue the company has had for many years. I think people don't really understand the benefits of a professionally-done template. People tend to think of it as an add-on to the end of a brand or website project."
We empower brands with fast, cost-effective, results-driven presentations.