PowerPoint template design services.
A template to create your own on-brand presentations.
If you want Hype Presentations to create every presentation you ever do, then that's fine with us. We'd do an amazing job, and your audience will be more engaged to take action than ever.
But, we know that some of you deliver lots of presentations – perhaps multiple per week. You would probably benefit more from an even more cost-effective and timely solution.
It may be time for your own custom PowerPoint template.
We develop and build a PowerPoint template around your exact brand and requirements.
Providing you with a framework you can use for all future presentations.
Giving your team the tools to create modern, consistent, and on-brand decks.
And saving you time and money each and every time.
Our custom PowerPoint template design service will empower you and your team to create on-brand presentations whenever you need one.
The template can be as locked down as you need it to be, to stop those certain employees from going rogue with their misguided creativity.
No more crazy colour schemes, stretched logos, or presentations featuring a thousand different fonts.
Just robust, consistent decks that meet your brand guidelines, and demonstrate the professionalism that your company deserves.
Our PowerPoint templates empower you and your team to build your own on-brand presentations simply, and at speed.
We make sure that your specific layouts, graphic assets, colours, and fonts are all taken care of at the back end.
All that's left for you to do is drop your content into the template, taking most of the manual labour out of building professional slides.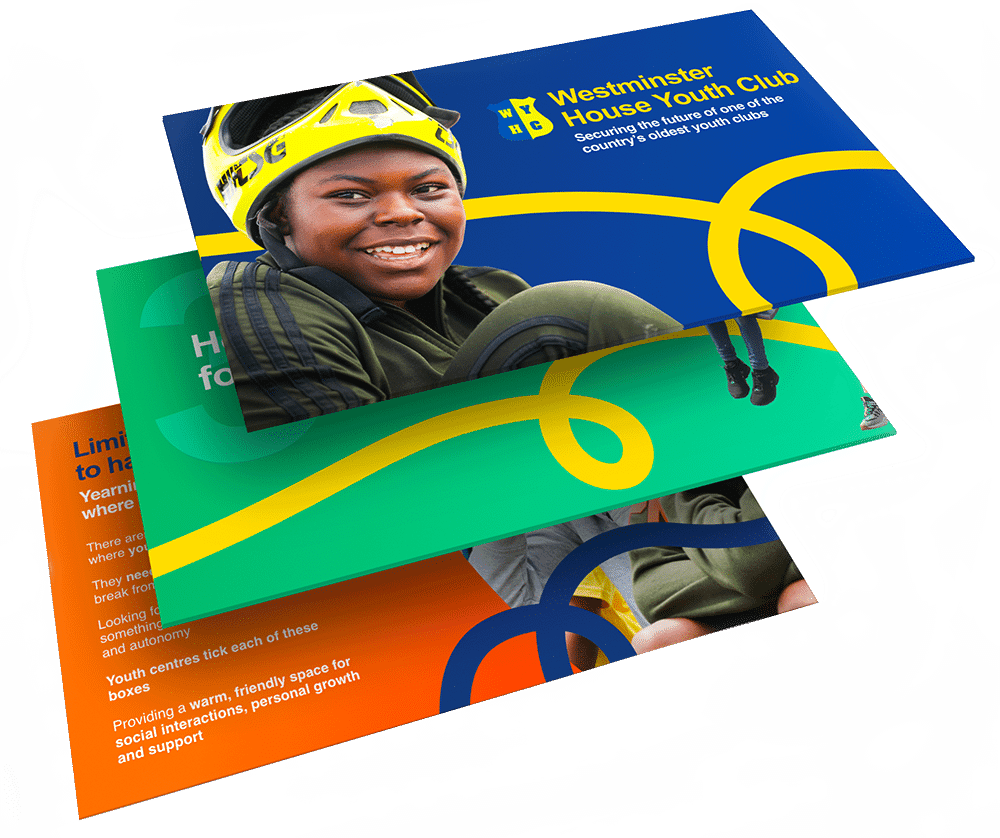 Our PowerPoint template creation process.
At Hype Presentations, we follow a rigorous and thorough presentation template design process, culminating in delivering the best possible deliverable for your business.
We begin by understanding your business, your goals, and your target audience through a comprehensive consultation process. This helps us identify the number of layouts you'll need, the various styles of these layouts, and how locked down or flexible you'll need your template to be. Perhaps you'll need different Slide Masters within the template for each product or audience. We'll uncover all this during Step 1.
Here we'll create a visual identity for your template. We'll base the look and feel on your existing brand guidelines to create a seamless continuation. If you don't have brand guidelines, that's fine; we'll talk to you about what you like and what we'd recommend in the Discovery phase.
In Step 3, we design the each of the different layouts for your template, based on the look and feel we created earlier. There are usually 15-20 different layouts per template, but if you need more, we'll design more - it's totally bespoke to you and your needs.
Now it's time to build the template in PowerPoint (or Google Slides, Keynote, etc). We'll take the designs, and build them into the Slide Master, applying your brand colour scheme, fonts, chart style. To help your team, we'll also include off-slide descriptions on how to use each layout in the template. We can even animate the Slide Master, saving you more time when you come to build your individual presentations.
Step 5.
Review and feedback
Once the initial template is complete, we work closely with you to review and refine the template based on your feedback. We want to make sure that you are completely satisfied with the final product.
Finally, we deliver the PowerPoint template to you. We can also provide more in-depth training to your team on how to use the template effectively, to ensure that you make the most out of your new PowerPoint template.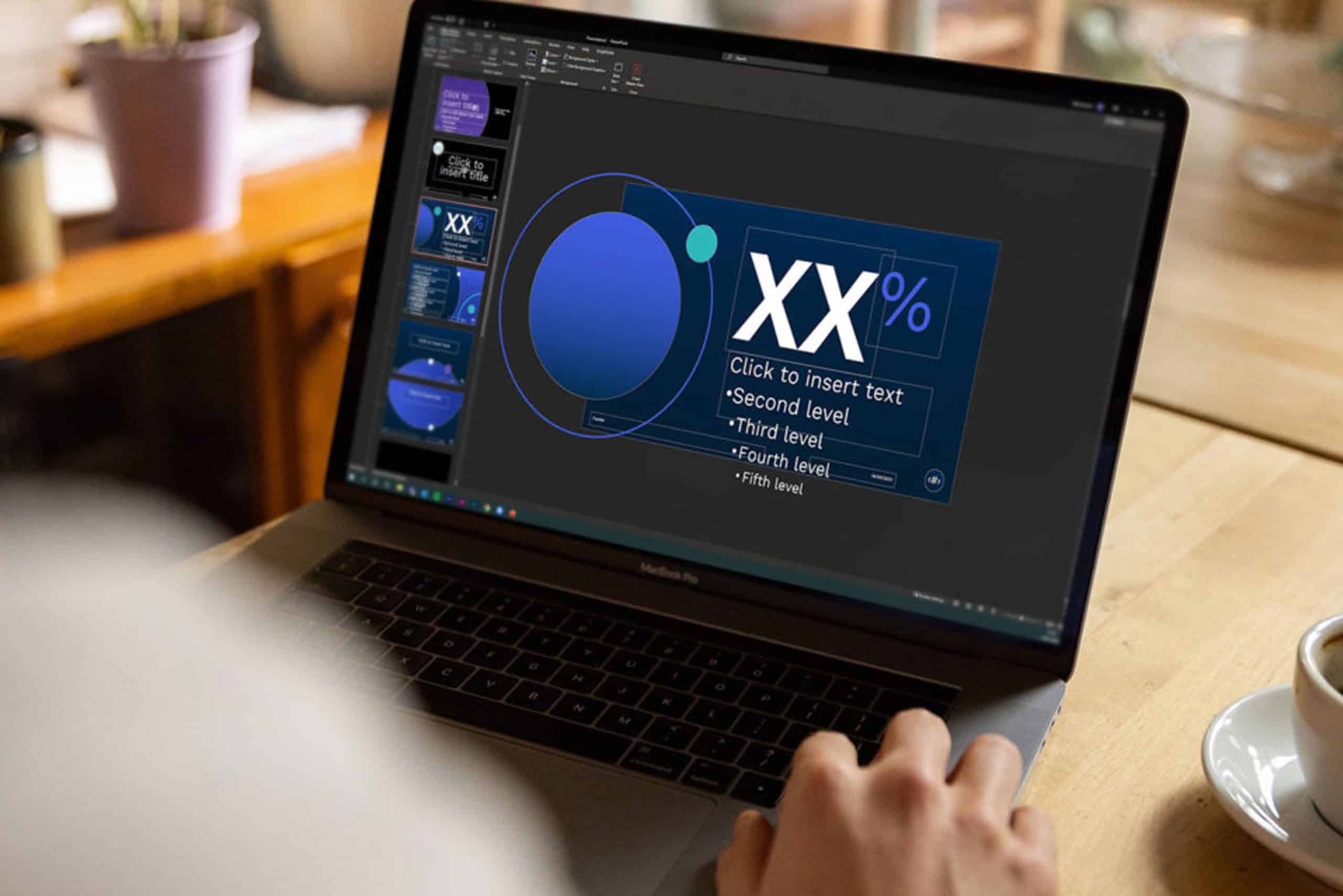 Three elements for the perfect PowerPoint template.
A great PowerPoint template can make all the difference in your presentation. But what makes a template truly effective? We believe that there are three key elements that are essential for the perfect PowerPoint template. Let's take a closer look.
The first element of a great PowerPoint template is visual appeal. Your template should be visually engaging, with a design that is both attractive and appropriate for your brand. Your template should use a colour scheme, typography, imagery, and graphics that are consistent with your brand and convey your message effectively. A visual appealing template can help to capture the attention of your audience and keep them engaged throughout your presentations.
It needs to be robust. It should prevent users from going off-brand or creating their own style from scratch, but be flexible enough to not be frustrating to the user. It should contain all the layouts you'll need and make building your presentations faster, more enjoyable and on-brand.
The third element of a great PowerPoint template is consistency. Your template should be consistent in its design and formatting, with a structure that makes it easy to follow and understand. This includes consistent use of fonts, colours, and imagery, as well as a logical flow and structure that helps to convey your message clearly and effectively.
A truly great  PowerPoint template combines visual appeal, intuitive functionality, and brand consistency. It's not only effective for your team, but also memorable for your audience.
Our team of expert designers can help you create a custom PowerPoint template that incorporates these three elements. Empowering your business to take your presentations to the next level.
PowerPoint template design case studies.
PowerPoint template
"An absolute pleasure working with you guys on this project. Well managed, great communication, great design and build. Fantastic result. The final result fixed an issue the company has had for many years. I think people don't really understand the benefits of a professionally-done template. People tend to think of it as an add-on to the end of a brand or website project."
Conference presentation
"Our conference presentation stood out as the best part, and presentation, of the day! The Rockstar section was the talk of the conference, with everyone asking our contact where they'd gone to produce that. Making noise at these events is how the individual brands cut through to the group heads and get more support and confidence where they need it."
Software presentation
"This might sound cheesy but do believe the Hype! We contacted them with a really urgent requirement and they delivered an amazing presentation and ultra fast. Knowing what we wanted and having the copy already drafted obviously helped but their team got our vision and brought it to life, and better than we expected. We will definitely work with them again and are already thinking about the next idea."
Sales presentation
"I highly recommend the team to anyone looking to elevate their communications and take their sales presentations to the next level."
CPD presentation
"The team guided us through the step-by-step process with ease, providing great insight and fresh new ideas, to create a more modern and engaging CPD for our audience."
Investor deck
"The team helped us to create a first-class investor deck, which was instrumental to the success of our investment round. We ended up securing £585,000, which exceeded our expectations by 30%."
We empower brands with fast, cost-effective, robust PowerPoint templates.
FAQs.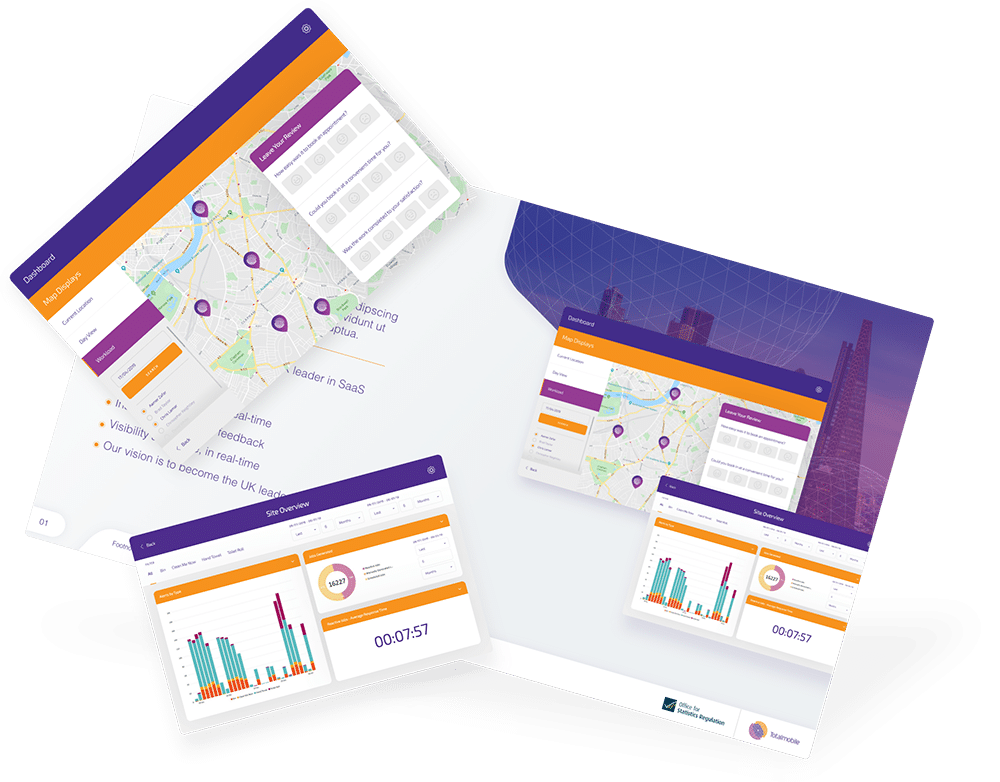 What is a PowerPoint template?
A PowerPoint template is a pre-designed set of layouts that can be used as a framework for creating a presentation. It includes placeholders for text, images, and other content, as well as a consistent design and formatting.
Why should I use a custom PowerPoint template?
A custom PowerPoint template can help to reinforce your brand identity, make your presentations more visually engaging, and ensure consistency across all of your presentations.
Can I use my own branding and colour scheme in the custom PowerPoint template?
Yes, absolutely. Our team will work with you to understand your branding and preferences, and will create a custom template that reflects your unique style and messaging.
How long does it take to create a custom PowerPoint template?
The timeline for creating a custom PowerPoint template depends on the complexity of the design and the number of revisions needed. Generally, we aim to deliver the first draft of the template within a week or two, and then work with you to make any necessary revisions.
What if I already have an existing PowerPoint template that I want to use?
If you already have an existing PowerPoint template, our team can work with you to refresh and update it, or make any necessary modifications to ensure that it meets your current needs and objectives.
Can I use the custom PowerPoint template for multiple presentations?
Yes, absolutely. The custom PowerPoint template can be used for multiple presentations, and can be modified as needed to suit the specific content and messaging of each presentation.